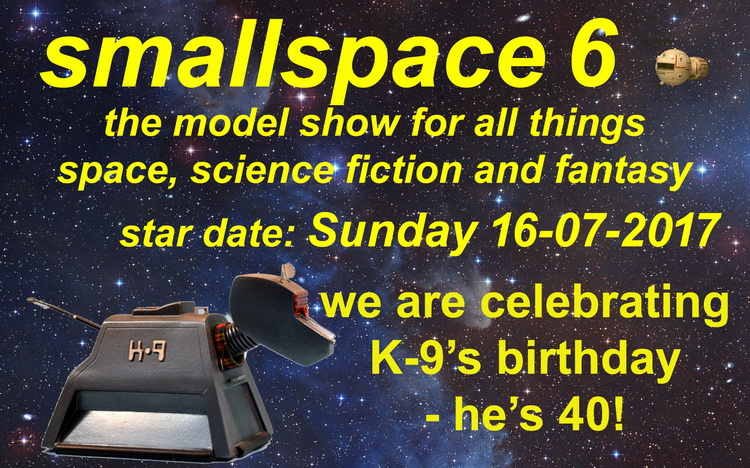 We can now announce our special guests

The designer
of K-9

The voice
of K-9

The designer of the 'rusty' K-9

TONY HARDING

First time at smallspace, meet Tony who did the actual original design

A return for John who was our special guest for the very first smallspace

Past regular at smallspace, Mike designed the 'rusty' K-9 for School Reunion.
(Oh, and the guy in the back of the photo will probably be there as well )

BOTH screen-used K-9s will be there to celebrate 'their' day

And the Best in the Solar System award this year will be for the best 'other' K-9

Your K-9 can be a copy of the 'reel' K-9, though it doesn't have to be full size. It can be made from any material, such as knitted, made into a bag or purse or even a costume - as illustrated here!

The only restriction is that it is home-made NOT a commercially available object
(Some here are commercially available - they are here only to give you ideas!)

The more innovative, the better!
Judging will be by the guests on the day

Some examples - replica 'reel's K-9s, knitted K-9s - and below costume K-9s!
YET MORE EXHIBITORS AND DISPLAYS :
click relevant logo for website/facebook page
First time at smallspace, Mark Enright's PodPad Studios Collection.
Many are 'steampunk' inspired, and there will be a selection on show.

see his website for more!

left - K7 of 9
right - Dalek Caan

Another first-timer at smallspace

Steve Howarth, who runs Model Miniatures, with a selection of his SF vehicles and craft

New to smallspace

Full-size 'Mk I' Tardis Console -
late 4th early 5th Doctor era -
will be on display

Courtesy of David Nagel

It's not all K-9s this year

We also have 'R2-SP' - a 'steam punk' version of R2-D2 ( left )

courtesy of

Chris Osborne

and

a more traditional R2-D2 (right)

courtesy of

Oliver Steeples

Also new this year, Nath Smith of the 15th Cyber Legion with his display of Cyberman and other masks

Regular David Sisson, and winner of the Best in the Solar System Award, smallspace 3 (2014), will be displaying some of his amazing array of Anderson-themed models - assisted by Simon Rhodes

Winner of Best in the Solar System Award for smallspace 2 (2013),
Dean Eyre returns with a selection of models and props

Regulars Andy and Karyn Spencer of The ExeWing Fundraisers, will be co-ordinating various displays of costumes and props.

James Burgess, sculpting and Cybermen - and Cyberladies!

And even Daleks...

Winner of Best in the Solar System award smallspace 4 (2015), Ian Crichton returns with his Steam Punk display

Space educator, Jerry Stone, of Spaceflight UK, will be making and launching rockets again

Made very significant as the date of the Show is the 48th Anniversary of the launch of the Apollo 11 Mission

Mamas Pitsillis of Studio 2 Models will be demonstrating his large-scale radio-controlled models

Michelle Edwards oversees a new Model Group - The Vogons.

(Be appreciative, otherwise they might read you some of their poetry...)

Janet-Elizabeth Black with an intriguing selection of heads!

Pete Hutton returns, but this time joined by other members of the club he recently joined, the West Middlesex Scale Model Club

Iain McDonald returns with his voice changing devices, the RC Reliant Regal Supervan (as driven by a certain resident of Peckham...) and (somewhere?) a Dalek!
Richard Ashton (otherwise known as 'The Tenth Doctor'), will be displaying large scale craft

The 'Sci-Fi and Fantasy' SIG (Special Interests Group) will be there as usual...

...as will the 'What If?' SIG

Chris Harding with his wide-range of media-based books
- and Womble tablecloth

Sante Claus with CEO David Limburg trying out various disguises...

Antares Concepts with Clive Aldenhoven and the unique range of wood-based space-themed models

Timeless Hobbies (OK Comet Miniatures) will feature the smiling face of Tony James

Tirydium Models, with Warren Monks, and daughter, Sophie, supplies lighting kits for a wide variety of models and props

Gary Hilliard and Mooncrest Models - resin kits a specialty

Plus your organisers

Paul Fitzmaurice

and Mat Irvine

...and there will be Daleks
TABLE RATES
Dealer tables £20.00 each, in advance
You can pay by cash, cheque or PayPal
for PayPal, pay £20.50* to: paypay@hamex.co.uk
(*includes transaction fee)
For additional booking information, contact Paul Fitzmaurice
ENTRY FEES
£5.00 per adult
which includes 1 free tea or coffee

Accompanied children, 16 and under, free
(Children, 16 and under, are only allowed in with a responsible adult)
We reserve the right to review the price of entry in the future
All these events are put on primarily for the 'fun element', and profits are donated to the Village Hall funds
| | Click the image for full details of where all the shows are held |
| --- | --- |
MEDIA
for PR or media enquiries contact Mat Irvine
---
---